Ultra Filtration System Manufacturer And Exporter
In the filtration process, Ultra-Filtration (UF) utilizes trans-membrane pressure differential for separating particles as per molecular weights. The raw water particles are smaller than pore of UF membrane get permeate and particles larger than UF membrane pore size get separated as concentrate under applied pressure.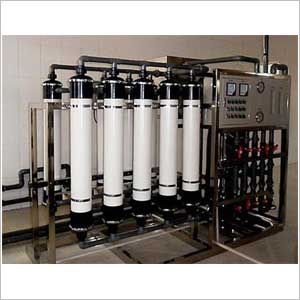 UF Membrane Construction :
❖ It is asymmetric semi-permeable membrane made using high molecular material
❖ The hollow fiber tubes are covered by micro-pores that allow solutions flowing in/out the membranes under influence of pressure
❖ UF membranes have pore sizes from 0.1 to 0.005 µm for different applications
❖ Normally, this process is utilized in removing
- High molecular-weight substances 
- Colloidal materials
- Bacteria
- Organic/inorganic polymeric molecules
Advantages :
The noted advantages of UF Filtration membranes include :
❖ Require minimum pumping energy, thus providing saving on energy.
❖ Offering chemical resistance over wide PH range.
❖ Easy to operate & maintain with low investment costs.
❖ Recovery ratio up to 98%.
Industry Applications :
Some of the industries these are used in include :
❖ Surface Water Clarification
❖ RO Pre-Treatment
❖ Waste Water Treatment
Filtration Plant :
System is operated at varied velocity from 10 m/hr to 30 m/hr to obtain required water quality and can be used for various applications. Stainless Steel filters are available with the options of individual ball/ butterfly valve or multiport valve as required by customers and based on application. We use the sand (grey sand or white sand) of size 6/14 and 16/32 BS mesh mixed to provide better filtrate quality.
Our team of experts manufacture these SS RO Plant in line with the industry accepted norms of quality and standards.
Features :
❖ Minimum Order Quantity 1 Unit
❖ Automatic Grade Automatic,Semi-Automatic,Manual
❖ Capacity 1000 LPH
❖ Installation Service Yes
❖ Material Stainless Steel
❖ Power 5 Kw
❖ Working Pressure 10 -15 bar